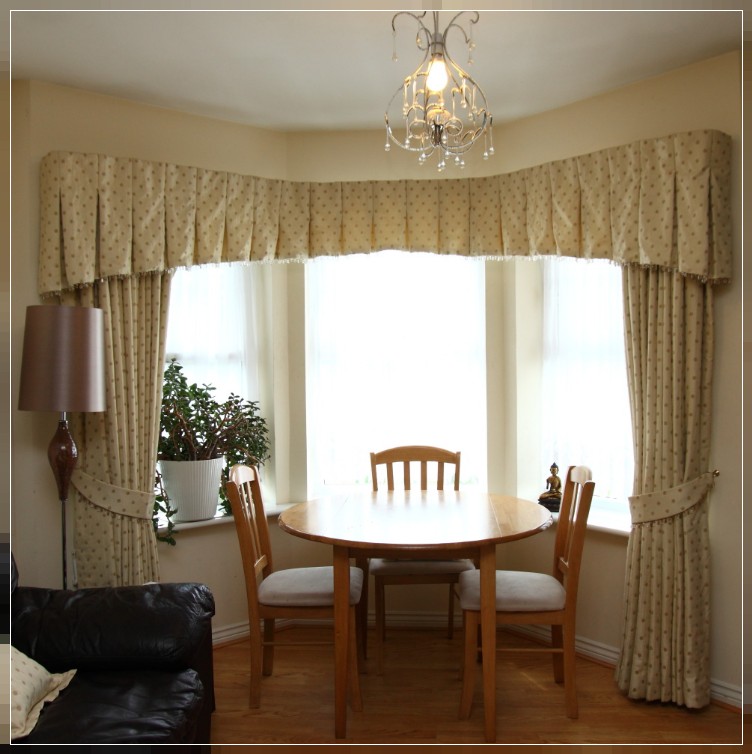 Depending on your budget and requirements we can offer bespoke hand made or machine made curtains. Our curtains are lined as standard and as an option, you can choose to have your curtains interlined. Interlining is an additional layer of blanket type fabric stitched between the lining and face fabric. The benefits of interlined curtains are its insulation properties, especially in colder weather where heat loss is reduced, this can make a difference to your heating costs.
Interlining will also improve the quality, drape and life of your curtains. Blackout lining can also be used to control light levels in bedrooms, great for shift workers or children's bedroom. If using silk fabric we recommend you have it interlined as it will protect the fabric from sunlight damage.
We make all types of headings; here are some of the more popular ones:
Triple pleats
, also known as pinch pleats
Double pleats
, made in the same way as triple pleats
Goblet pleats
, the shape is similar to a wine goblet, a variation of this pleat is the cut-away goblet where a contrasting fabric is inserted into the pleats
Cartridge pleats
, also known as Tete de Versaille
Eyelet heading
, made with metal eyelets evenly spaced across the top of the curtain, positioned about 4cm from the top edge. Eyelet curtains gives the room a modern feel.
Pencil pleats
, are the simplest form of curtain heading, the heading is gathered using a tape. To make pencil pleat curtains look more stylish, an extra deep tape can be used and set approximately 10cm down from the top to create a gathered heading to add interest.
"Hi Maureen, I would like to thank you for your help and advice with choosing my fabrics and the design of the curtains and matching cushions, They are stunning! a very professional service from start to finish, I will certainly be recommending you".
"I had been hoping to find someone who could make up some lovely curtains but at a reasonable cost and with good service. A friend put me in touch with VA Curtains and Maureen who, from the start, was helpful, professional and prompt. She visited my home and took full measurements and discussed with me what may work best,listening to my ideas and assisting them take shape using her experience. I wanted something that looked good for my daughter's den but also practical for a soon to be teenager space! I even needed her to figure out what to do about the cat flap under one window! Anyway, I received a fair quote promptly and then everything was done with no worry at all! She fitted them beautifully taking great care and checking that everything was just so. I now have a lovely door curtain and a blind (to avoid the flap!) and matching cushions for a finishing touch.
I did not think I would find such good service in these days of speed and internet shopping. I was wrong. I found GREAT service! Thank you to Maureen and VA curtains. I am delighted with the result and have already asked for bathroom blinds."