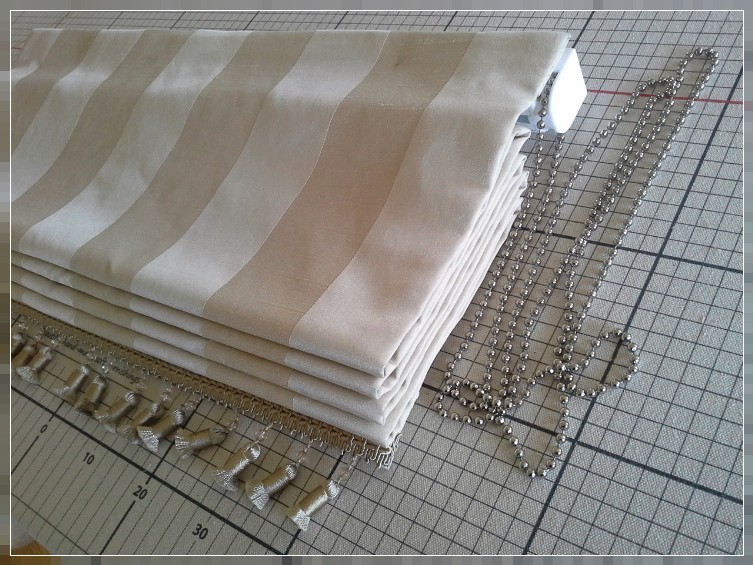 VA Curtains can make and supply a range of blinds such as Roman, Roller, Venetian, wooden & Louvres
Roman blinds provide privacy, use the minimum amount of fabrics so are less expensive to make than curtains. They are very popular in bedrooms and kitchens, classic and contemporary, the designs and styles are endless, with so many designs available you are sure to find one that suits your style and interior. They look great under valance, hard pelmet and dress curtains. They can be shaped and embellished with beads or fringing along the bottom edge, contrast fabrics can also be added to the sides, middle or the bottom to create an instance elegance. Roman blinds can be made out of almost any fabric, including voiles/sheers. Inside or outside recess mounting, neat standard or cascading folds when raised and quality stitching ensures a flawless tailored finish.

They are practical and stylish in any room, if used in the bedroom a blackout lining will improve light control, this will also stop shadows from the outside when lights are on in the room. Blackout lining are particularly effective for shift workers or children's room. They will look their best lined and interlined, but can also be unlined.
Roller blinds are made from fabric and roll up and down by use of a cord. Like roman blinds, they can be made out of almost any fabric and can be made with blackout fabric.
Venetian blinds are slatted blinds made from wood, metal or plastic, they are practical in bathroom and kitchen where there is high level of moisture.
"Dearest Maureen, you are blessed with your vision and hand skills, thank you so very much. I'm in love with my blinds"
Mrs R, Feltham
"You have done some amazing work Maureen, thank you! Really appreciated your quidance in choosing the fabric, your high quality work and the great friendly service, as well as delivery on time. My bedroom looks really classy with it's new light-block-out blinds and matching bed throw and cushion - I keep looking in on it! definitely recommended - thanks."
Ms C, Twickenham